It has been said on more than one occasion that in the digital age, trade shows would go the way of the dinosaur, typewriter, and video stores — extinct. But as we saw last week at PARCEL Forum '18 in Chicago, there is still plenty of life and learning at trade shows.
Better yet, there is perhaps no better way to get the pulse of the shipping industry, uncover emerging trends, and luckily for us, find fodder for a blog. There is also the matter of catching up with friendly competitors we've known for years! So we thought we'd recap our three biggest takeaways from the show.
Globalization – Anyone can buy anything from anywhere
Globalization is not new. The economies of the world have long been intertwined. However, with the advancement of technology, we now live in a world where anyone can buy anything from anywhere, so natually those who are selling products to consumers or parts to a manufacturer, increasingly have to have the ability to ship to anywhere from anywhere.
Of course, as we have discussed before, shipping internationally comes with a broad new set of challenges for shippers. Here are some of the things we heard about the globalization of shipping:
About 95 percent of the world lives outside of the U.S., they place larger orders, and are willing to pay more.
The top three causes of customs delays are invoice error or missing info (32 percent), HTS code error (22 percent), and value and description discrepancies (21 percent).
U.S. Customs and Border Protection (CBP) is investinging new technology to screen high volumes of packages at U.S. mail and port facilities as global eCommerce continues to grow.
Taking advantage of the de minimis exemption, which allows for goods valued at $800 or less to enter duty-free into the U.S. without formal entry, is a great option for importers to save money and time.
There was plenty of talk about Pitney Bowes' recent Parcel Shipping Index Report. According to that report, global shipping volumes will exceed 100 billion parcels in 2020. Last year, parcel volumes grew 17 percent to 74 billion. Notably, China's parcel volume grew 28 percent last year to 40 billion parcels.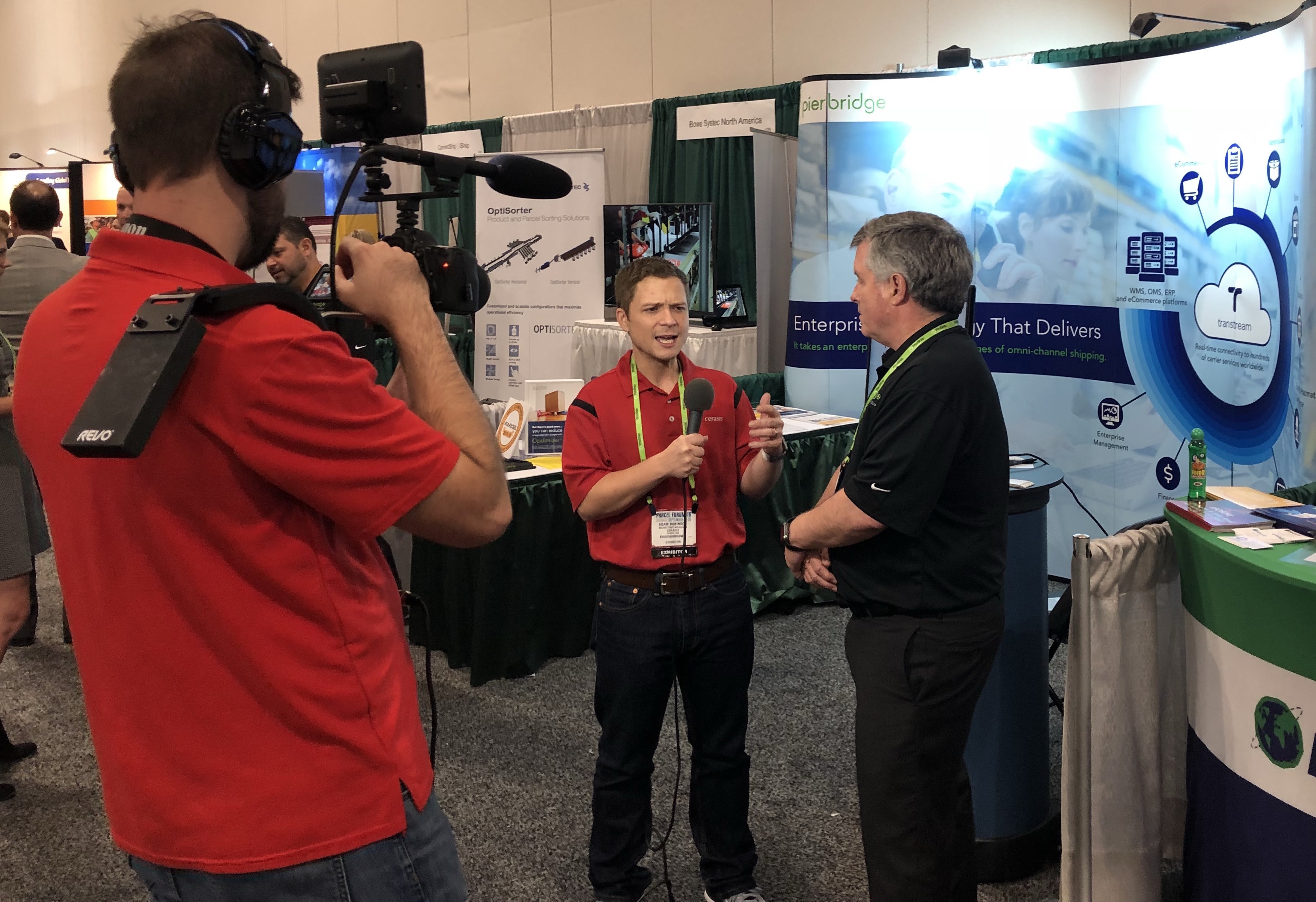 Pierbridge partner, Cerasis, interviews Managing Director Bob Malley about how 3PLs need TMS community management. Photo credit: Chris Brejak
Last-Mile Delivery – Get closer to your customers' doors
As customers demand more delivery services from shippers such as same-day, white glove and more, last-mile logistics are rapidly taking on a new look. From distribution strategies to technology, shippers are trying to keep pace with last-mile in a myriad of ways. Here are some of the key takeaways from around the show:
The traditional setup of large, centralized distribution centers is evolving into a more distributed fulfillment model to provide the speed that today's consumers demand. Shippers are getting closer to their customers with omnichannel strategies.
Retailers are expanding their networks of distribution and fulfillment facilities focusing on those near large population centers to help speed time to customers' doors.
Various last-mile logistics facilities, including innovations like airborne and subterranean fulfillment centers, are in the works.
From drones to autonomous vehicles to robotics to the IoT, emerging technology is, and will continue to be, the key to driving last-mile delivery.
As the last mile becomes more complex, industry leaders have started to make use of additional sources of information, including real-time visibility, advanced order optimization algorithms, and analytics.
Cartonization – Pack better, increase profits
OK, so a quick look at our blogs shows that we didn't need to fly to Chicago to learn about the importance of cartonization for shippers looking to keep costs in check and their customers happy. However, it was interesting to see that not only were we ahead of the curve on the importance of packing well to avoid DIM fees, but we also picked up a couple of facts and tips on the floor and in some of the conference sessions:
Shippers normally ship in boxes that are approximately 40 to 60 percent bigger than necessary.
The average outbound carton is filled with 50 percent air.
Many organizations are still using technology that is 20 to 30 years old.
WMS systems rarely take transportation costs into account when issuing packing instructions.
There was plenty more talk on the show floor, and if we didn't see you at this one, hopefully, we can catch up at another and talk about how enterprise parcel shipping software fits into making shipping logistics future-proof.