UPDATE: We recently co-hosted a webinar with Labelmaster where we discussed not only staying up-to-date with regulations, but also how to handle the challenges and opportunities of the emerging omnichannel shipping world in which more shippers are operating when shipping dangerous goods. Read this guest blog written by Labelmaster's Brian Beetz to make sure you are aware of some of this year's regulations and then watch the on-demand webinar "How to Stay Dangerous Goods Compliant and Optimize Parcel Shipping in the Brave New Omnichannel Shipping World" to hear him and Pierbridge's Scott Moore discuss the best way to overcome the challenges facing retailers and others shipping from an endless aisle.
By Brian Beetz
Manager, Regulatory Affairs & Corporate Responsibility
Labelmaster
2018 was a relatively quiet year in the Dangerous Goods (DG) galaxy, with few major new regulatory changes and no unexpected surprises from domestic or international regulatory bodies. But that doesn't mean there aren't important changes you need to take into account.
As Labelmaster's manager of regulatory affairs and corporate responsibility, I hear all the questions from our customers and partners about how best to comply with regulations. This gives me a firsthand look at which new regulations are making the biggest impact over the course of the year. Here are the most important regulatory developments for 2019:
New lithium battery Class 9 labels and marks
These new Lithium Battery Class 9 labels and Lithium Battery marks have been available for use for almost two years during the regulatory transition period, but became mandatory Jan. 1. Many shippers are already comfortable with them. Others, however, have continued to use the "old" labels (standard blank miscellaneous Class 9 and lithium battery handling), and still, have some uncertainty about staying compliant after Jan. 1.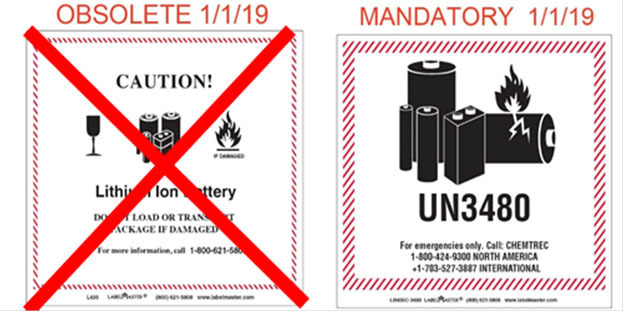 Since shippers have had a two-year transition period to make this switch, there won't be any additional grace period. If you're still using the old labels and marks at this point, you can expect to have carriers reject your shipments.
Lithium batteries still generate the most questions
Even in a relatively quiet regulatory year, we still get more questions about lithium battery transport than any other subject.
More and more companies who sell battery devices are becoming aware of their reverse logistics liability after incidents with hoverboards, phones, and e-cigarettes.
New hazardous waste manifest
The new, 5-part hazardous waste manifest (EPA form 8700-22) became mandatory in June of 2018, but for the most part, shippers have adjusted smoothly. No surprise, because the form is nearly identical to the old, 6-part form.
New regulatory publications from IATA and IMDG
Organizations that ship hazmat by air have been busy preparing to comply with the new, 60th edition of the IATA DGR, which came into force Jan. 1. Since these regulations are mandatory right away, it's essential to incorporate any new rules into your processes immediately.
The IMDG Code is the only DG regulatory publication where there's a grace period between Amendments—new regulations in the 2018 39th Amendment are now optional and become mandatory Jan. 1, 2020.
Coming in 2019: U.S. DOT and International Harmonization
Sometime in the first half of this year, PHMSA will publish its final rule aligning U.S. regulations with the 20th Edition of the UN Model Regulations, the ICAO Technical Instructions, and IMDG Code 39th Amendment. (The public comment period closes on Jan. 28.) These harmonizations usually trigger numerous rules changes.
Technology that keeps you compliant and focused on delivering for your customers
The volume and complexity of changes may seem daunting. Keeping up with all the domestic and international regulatory bodies, their rules and regulations, and the constant changes on how to ship your wares compliantly takes dedication. Even the most seasoned DG professionals find it difficult to stay on top of it all. Yet, there are alternatives to compiling and reading through regulatory changes: technology that does it for you.
In a recent blog post by Pierbridge Managing Director Bob Malley, he asked, "What can shippers do to streamline their operations and control shipping spend while managing regulatory risks?" He posited, in part, that finding a multi-carrier parcel solution that can validate regulated shipments against the latest rules, provide labeling diagrams to indicate the correct markings to use, and develops required shipping forms can help them keep their operation running with confidence.
"If you are a hazmat shipper, you know that there is a lot that can go wrong that could create critical issues for your business," said Malley. "Having a hazmat-intelligent parcel TMS solution in place will help everyone in your organization breathe a little easier. Pierbridge, teaming up with Labelmaster, provide the perfect parcel TMS solution that will allow hazmat shippers to ship with confidence."