The rapid surge of e-commerce and the rise of direct-to-consumer last-mile delivery have brought a myriad of challenges, pushing logistics providers, shippers, and retailers to think creatively with a keen eye toward the future. It's an exciting time, with new technology and novel approaches to business being developed and implemented.
Take warehousing. As e-commerce has grown, so has the need to build warehouses and distribution centers closer to customers to deliver orders quickly and cheaply. Problem is that in urban areas, any available land to build modern facilities is either non-existent, wildly expensive, located too far from customers, or situated in rusted-out industrial areas with neglected infrastructure.
Bow to the e-commerce overlords
With more retailers offering same-day delivery, the race to get a facility up, running, and located close to customers is fierce. So far there has been some quick and dirty repurposing of existing buildings, a smart solution, but one that may require taking a hit either on cost, infrastructure, or building quality.
In fact, the pressure to be close to customers is so great, previously high-valued parking spaces are being sacrificed to satisfy our new e-commerce overlords. Bloomberg recently reported that Amazon is converting already overcrowded parking areas at Whole Foods locations into stalls for contractors to pick up and deliver popular online purchases, such as electronics and books. The Bloomberg piece notes, Amazon is betting consumers will opt for online delivery over setting foot into stores.
Still, cutting off a slice of high-value customer parking spots for online delivery was unheard of 10 years ago. But so were multi-story warehouses.
Moving on up
Late last year, Goldman Sachs Asset Management Private Real Estate (GSAM PRE) and DH Property Holdings announced a partnership to build a 370,000-square-foot building in Brooklyn's Red Hook waterfront district. The space will be designed to provide e-commerce and distribution tenants with "a product that doesn't currently exist in the market and serves a growing need for same-day access to the end user," explained Joe Gorin, co-head of GSAM PRE, according to a Logistics Management report.
One of the first of its kind on the East Coast, the building will include 130-foot truck courts on both the ground and second levels, each large enough for tractor-trailers, along with 33 loading doors and a parking deck.
While there are no specific details on how they plan on renting the space, best bets are that it will resemble Seattle's Georgetown Crossroads. Reportedly the first multi-story warehouse in the U.S., the three-story, 600,000-square-foot fulfillment center aims to mix e-commerce with other light industrial users, such as engineering and design firms.
Expectations are that 3PLs will find multi-story spaces attractive given the proximity to customers and fuel savings. Smaller retailers, who typically pay higher rents for retail space in populated areas, could also find the normally cheaper industrial space attractive — and provided their goods are smaller in size, wouldn't mind being located on the top floor.
Single tenant occupancy of the building is a possibility. Larger retailers with multiple distribution centers could also save a treasure chest in building costs by relocating to a multi-story building. Five different distribution centers can be amalgamated into one five-story building.
It may not all be cost savings and lollipops, however. With e-commerce growing and becoming aggressively competitive, multi-story tenants could pay 50% more than the average warehouse rate, according to The Wall Street Journal. But if that means you're a day closer to the customer than your competitor, a 50% premium could be a small price to pay.
Amazon's multi-level fulfillment beehive drone center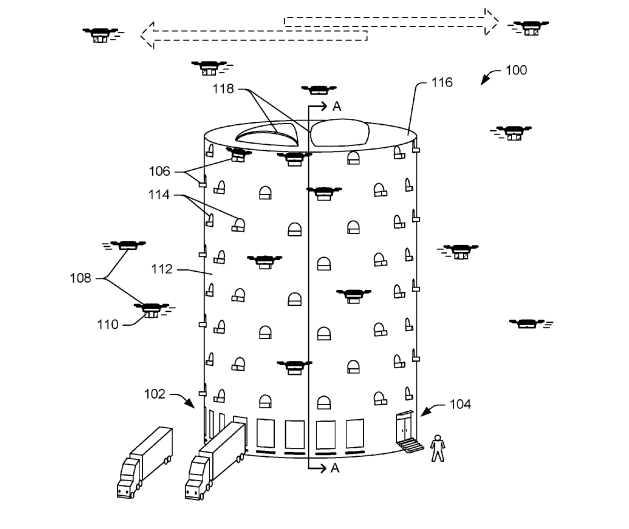 Source: Amazon patent, United States Patent and Trademark Office
Ready to get a little weird?

In 2015, Amazon filed a patent application for multi-level fulfillment centers for unmanned aerial vehicles, which was published in 2017. The application acknowledges the challenges of warehouses being located on the edges of cities, and, as we're seeing in New York and other parts of the world, stresses the need for vertical high-rise centers, ones where drones can fly well above city streets to pick up packages.
According to the patent, hundreds of thousands of packages could be delivered every day. The center would still accommodate good old-fashioned tractor-trailers and other ground vehicles, but its primary purpose would be to make drone delivery as efficient as possible. Drone traffic would stay near the top of the structure so that street-level noise is minimal, and cruising altitude is maintained during delivery. Drone power consumption is also saved by reducing take-offs, with some versions of the building's design spec'd with drone elevators that would lift it up before being deployed. It's a wild, yet oddly practical design.
Although a long way off from seeing the light of day, Amazon's patent for a multi-level drone fulfillment center is another sign of how technology is pushing innovation across the board. And that's nothing to get down about — in fact you may have to keep looking up if you want to stay competitive.
(Cue The Jeffersons' theme song.)