Throughout this week's Earth Day celebration, there has been a renewed focus on the question of "what can be done to take care of the planet?" Consumers are asking retail, eCommerce, 3PLs, and other shippers the same question regarding packaging and sustainable shipping.
While still ranking behind other factors such as price, a McKinsey & Company study revealed that 55% of U.S. consumers are extremely or very concerned about the environmental impact of product packaging. And they are making purchasing decisions based on the environment.
According to a study by environmental technology company GreenPrint, 78% of people are more likely to purchase a clearly labeled product as environmentally friendly.
Manufacturers, retailers, 3PLs, eCommerce shippers, and carriers are making strides to keep eco-conscious customers happy by changing the way they package, pack, and ship parcels.
Here are three ways that the supply chain can provide an environmentally friendly take on sustainable shipping:
Eco-Friendly Packaging and Packing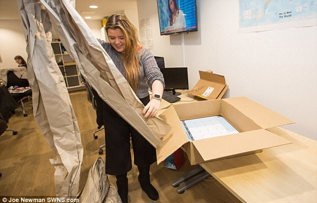 Research from Truvium Packaging last year showed that nearly 75% of consumers are willing to pay more for sustainable packaging. And of those, almost a quarter are willing to pay 10% or more. Shippers are increasingly turning to eco-friendly packaging alternatives. However, regardless of the packaging used, poor packing will lead to unhappy consumers faced with waste from cartons that are too big and stuffed with air or packing fill because of packing fails. Choosing the correct carton by using a multi-carrier management solution with AI-powered cartonization capabilities for the item can help shippers contribute to a healthier planet while reducing dimensional weight (DIM) fees and creating more loyal customers at the same time.  
Alternative fuel vehicles for deliveries
Carriers are chipping in for sustainable shipping as well. As a wider variety of shippers join the last-mile logistics landscape, shipping smaller orders more frequently, there are more vehicles on the road to help get those packages into the hands of consumers. Adding to this, especially throughout COVID-19, is the fact that 3PLs, manufacturers, and others have shifted or added direct-to-consumer (D2C) shipments to their shipping mix. To aid this, carriers are increasingly looking at alternative fuel vehicles to reduce their emissions. Shippers, too, can help with this by utilizing a multi-carrier parcel management solution to help find and manage national, regional, and local carriers to find those that can combine shipments or reduce travel distance through ship-from-store and 3PLs with multiple distribution centers and warehouses.
Reduce, reuse, recycle your retail returns
The stock returned to retailers is often landfilled, considered too time- and cost-intensive to add back into inventory. In fact, less than 50% of returned items ever make it back on the shelf—either physical or virtual. In the U.S., returned items account for 5 billion pounds of landfill waste. In 2019, it was estimated that transportation for returned items contributed an alarmingly high 15 million metric tons of carbon dioxide. Retailers and eCommerce companies can help reduce the damaging impact of returns on both the environment and the bottom-line by offering alternatives to free returns, such as providing free return shipping only for exchanges or store credit while charging for shipping on refund requests. Managing those returns efficiently with a returns widget helps automate returns and manage the reverse logistics such as offered in Transtream multi-carrier parcel management solution.
The Earth is fragile, and being environmentally conscious with shipping can help companies contribute to its caretaking and cut costs and keep eco-friendly customers returning in the future.  
Schedule your demonstration today and learn how Transtream TMS can help your sustainable shipping logistics today.